Chairperson Message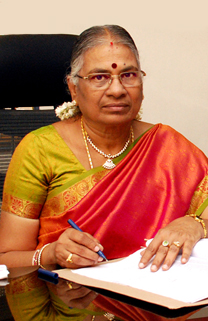 Tmt. Vijaya Muthuvannan
CHAIRPERSON
A Philanthropic attempt to contribute significantly for the development of rural economy through engineering education is made by S.P.S. Educational trust by establishing V.R.S. College of Engineering and Technology at Arasur, a rural environment in 1994, and providing facilities and amenities to the students from the inception itself.
As an ISO 9001:2008 recertified and NBA & NAAC accredited institution, V.R.S. College of Engineering and Technology provides the right ambience to attain excellence in engineering through appropriate infrastructural facilities, qualified and inspiring faculty, a well-stocked library, Wi-Fi enabled campus, state of-the-art laboratories, innovative and inspiring teaching-learning process and working systems.
Our institution provides a stimulating environment for intellectual development by providing dynamic learning opportunities and equipping them with the additional skills, insights, attitudes and practical experiences for free thinking and personal growth that are necessary for the students to take up responsibilities in the society.
We always strive hard to nurture our students to attain new and high altitudes in their professional career and lead the life of responsible citizens.