Principal Message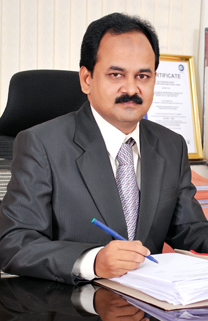 Dr. N. Anbazhaghan, M.E., Ph.D.
PRINCIPAL
We are committed in taking a philanthropic approach by setting defined objectives to create good technologists from this rural location. We transform the students both personally and professionally to prosper and succeed in this era of technological advancements. We teach the students with very carefully selected, well qualified faculty members having requisite skills and full commitment. The faculty members are consistently trained through various faculty development programmes, especially WIPRO's Faculty Empowerment Programme to replace the conventional mode of teaching with innovative methods.

Our strenuous efforts for the academic development have reaped good results to our college in Anna University examination results with 91.31% script wise pass percentage, especially 82.02% in Mathematics. To render consistent training and encourage learning to the slow learners, we conduct remedial classes. We bring new perspectives from various industries by signing Memorandum of Understanding [MoU] to bind a relationship for sharing technical knowledge across the country. A humpty number of opportunities like industrial visits, inplant training, industrial projects, placement opportunities etc. are provided to the students to acquaint with industries for getting exposure in developing their career in this challenging field. We strive to improve the psychological implications, learning efficiency, perception and concentration of our students and faculty members by providing mind mapping training and YOGA training respectively.

To bridge the gap between our institution and various industries, we collect suggestions from our alumnae during the Alumni Meet, being conducted every year and impart the suggested training along with regular academic schedule to improve the employability of our students. We provide the students with Wi-Fi facility round the clock 24×7 with 8 Mbps Airtel Broadband to facilitate self learning. Complete and sophisticated well furnished library provides all kinds of study materials, required to our students.

To create awareness about career opportunities and to develop technical knowledge through career guidance bureau, we organize funded workshops, seminars etc. with experts from industries and reputed institutions. In addition, the entrepreneurship development cell activities are being carried out to inculcate the thrust of entrepreneurship among our students. The professional societies like ISTE, SAE, ISHRAE, IEEE, CSI, IETE,ICTACT,CII and MSI in which we have association for professional activities also help us in disseminating recent developments in technology among our students. Through a separate research and development committee, the efforts are being continuously taken along with regular academic schedules to harness all opportunities to do funded programmes.

Indian Society for Technical Education [ISTE], New Delhi has recognized our efforts by awarding BEST ISTE CHAPTER AWARD in 2009-10, BEST ISTE FACULTY ADVISOR AWARD in 2010-11 and BEST ISTE STUDENT AWARD in 2011-12, BEST ISTE SECRETARY AWARD in 2012-13 and BEST ISTE STUDENT AWARD in 2012-2013 and supports continuously is an example for our efforts. Our vision of providing endless opportunities and place to ambitious and hardworking students and staff, who wish to excel in their profession has succeeded and will continue in future.